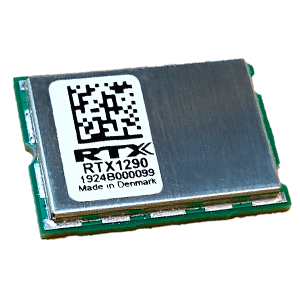 RTX1290 2.4GHz module
RTX1290 • Compact, power-efficient, low latency wireless communication module.
The 2.4GHz communication module is designed to enable HD audio and light data capabilities in our product solutions: Sheerlink™ and Gaming.
Specifications
General data
Physical characteristics:

15.4 x 21.6mm • Single-sided PCB assembly • LGA mounting

Supply range:

1.9V – 5V (battery operation) • Built-in charger(standard battery types with charge current up to 400mA)
Environmental conditions
Operating temperature range:

-20 °C to 60 °C

Humidity:

30-95%, non-condensing
Other technical specifications
Full list of technical specifications:

See Product Sheet
Module capabilities
For a reliable connection, the RTX1290 module supports antenna diversity and along with the RTX 2.4GHz proprietary protocol, it also supports utilization of channel diversity and retransmission schemes. Combining all three features allows for the best compromise between radio resilience and latency. The total latency ranges from 2ms and up, depending on the configuration.
The RTX1290 module makes compact solutions possible - the module shares form factor and is footprint compatible with the RTX1090 DECT module. This allows you to reuse designs and applications for multiple radios.